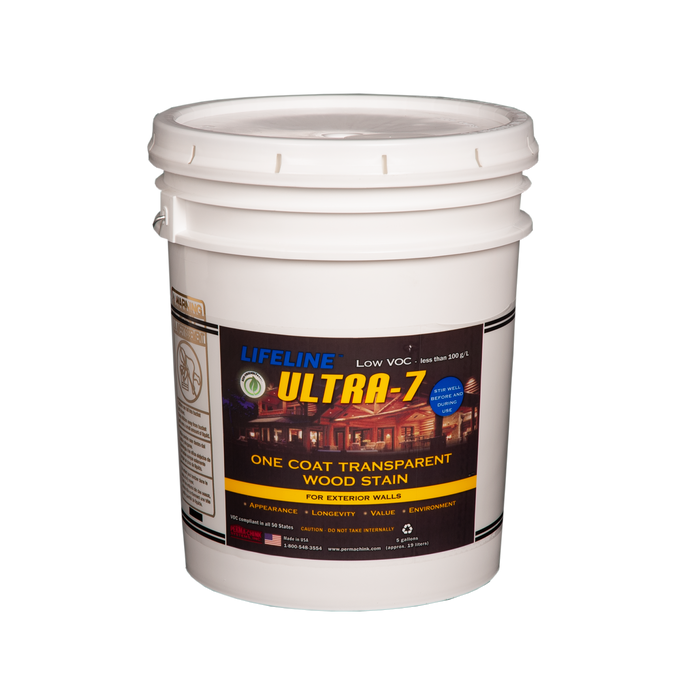 Lifeline Ultra-7
Original price
$0.00
-
Original price
$659.95
Description
Lifeline Ultra-7 One-Coat Wood Finish

Lifeline Ultra-7 is the most durable exterior stain that Perma-Chink Systems has ever developed. After multiple exposure tests in harsh weather areas across North America (think snow country, the sunny southeast and extreme mountain locations), Lifeline Ultra-7 stands out as THE top-of-the-line, longest-lasting finish.
The secret behind its durability is Lifeline Ultra-7's state-of-the-art resin that creates a flexible and tough seal on your home's logs. The resin also ensures that the seal is continuous, providing protection from holes and gaps that might otherwise develop with a lower-quality finish. Also, it has unsurpassed adhesion to wood.
It's this continuity that has proven to be much more resistant to UV degradation, colour fading and adhesion loss. And just like all Lifeline finishes, the water-resistant film breathes much like Gore-Tex® does to allow trapped moisture to evaporate from your logs.
Perma-Chink Systems Inc is so confident in the performance of their newest product that they're offering it with up to a 5-year warranty against UV exposure when applied to bare wood and covered with Lifeline Advance clear topcoat. Note: Do not use Advance Gloss over Eucalyptus #390.
Features
Appearance
Longevity
Value
Environment
Product Specifications
Shelf Life
Application Temperature
Application Methods
Surface Preparation

Clean and Dry
Free of mold and mildew
Never use steel wool

Frequency

As needed, depending on exposure

Special Instructions

Back-brushing required
Stir container every 15 minutes
Maintain a wet edge to avoid lap marks
Requires one of Lifeline Advance topcoat
Avoid applying in direct sun

Drying Time

Dry to the touch in 1 hour
Cures in 3 days
Coverage Rates 
300-400 square feet / gallon