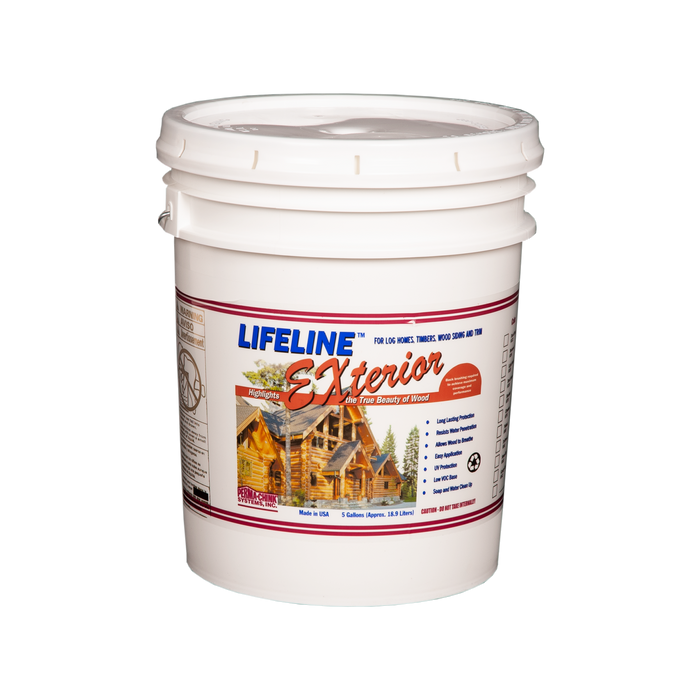 Lifeline Exterior
Original price
$0.00
-
Original price
$459.95
Description
Lifeline Exterior Semi-Transparent Stain and Sealer
Lifeline Exterior is a semi-transparent finish that shades and highlights wood's natural beauty. In addition to enhancing the splendour of your home, Lifeline Exterior provides a weather- resistant polymer film that allows logs to breathe and dry. This is especially important when staining green or partially dried logs.

Lifeline Exterior may be applied by brush, pad or spray. For best results use an airless sprayer and back-brush. We recommend that two coats of Lifeline Exterior be applied for maximum performance and colour development.

For extra UV protection add UV Boost - a concentrated water-based liquid stain additive for the first coat of stain. Highly pigmented stains last longer in intense sunlight. For best results and performance, apply Lifeline Advance immediately after Lifeline Exterior is dry or wait no more than 12 months to apply Lifeline Advance Gloss or Satin. Note: Do not use Advance Gloss over Ultra-2 Butternut, Gentry Grey or Stone Grey.

Lifeline Exterior's ease of application makes it the perfect choice for the do-it-yourself log home-owner.
Features and Statistics
A breathable sealer

Mold inhibitors

Non-yellowing

Semi-transparent

UV-ray protection
Product Specifications
Shelf Life

3 year
Do not freeze!
Application Temperature
40o to 90o
Best to apply out of direct sunlight.
Application Methods

Airless Sprayer
Brush
Back-brushing required
Surface Preparation

Clean and Dry
Free of mold and mildew
Never use steel wool
Frequency

Depends on weather exposure
Special Instructions
2 coats. Must be back-brushed.
Stir every 15 minutes.
Maintain a wet edge to prevent lap marks.
One or two coats LIFELINE ADVANCE recommended.
Avoid applying in direct sun.
 Drying Time
Dry to the touch in 1 hour and cures in 3 days
LIFELINE EXTERIOR Coverage 
1 gallon approx.
first coat: 350-450 sq.ft.
second coat: 600-800 sq.ft.
 5 gallon approx. 
first coat: 1750–2250 sq.ft.
second coat: 3000-4000 sq.ft