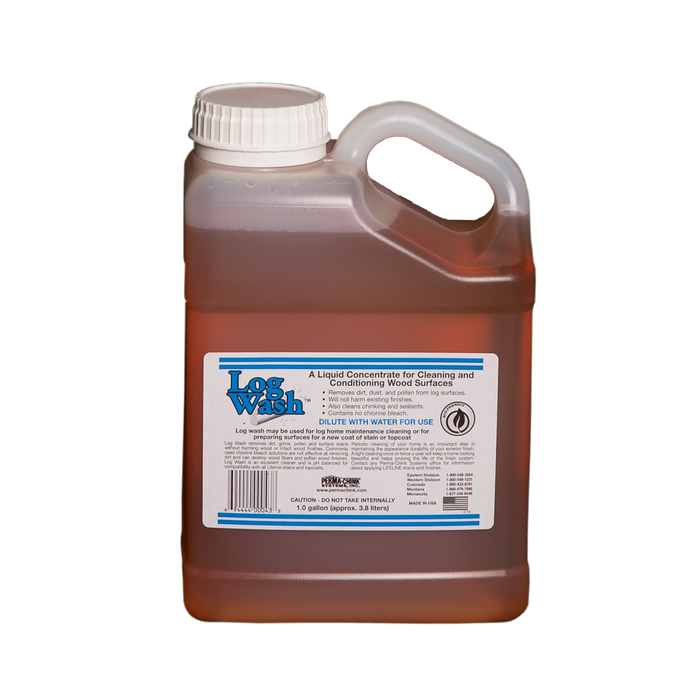 Log Wash
Original price
$49.95
-
Original price
$49.95
Description
Log Wash Log Home Cleaner
Log Wash is a liquid concentrate for maintenance log home cleaning. Periodically cleaning an exterior finish is an important step in maintaining the appearance and durability of a stained surface.
The exterior surfaces of a log home are a settling ground for dust, pollen and other airborne contaminants that dull the surface and encourage mold growth. A light cleaning once or twice a year will keep a home looking beautiful and helps prolong the life of the exterior finish.
Log Wash is designed to remove dirt, grime, pollen and surface mold and mildew without harming the wood or the finish as long as the finish is in good condition. If during the washing process you notice areas where the stain or topcoat is coming off, it is probably time to apply a new coat of stain or topcoat.
Features and Statistics
Removes dirt, dust, and pollen from log surfaces

Will not harm finishes that are in good condition

Is safe to use on chinking and sealants

Is environmentally friendly 
Product Specifications 
Shelf Life

3 year
Application Temperature
40o to 90o
Do not freeze!
Application Methods

Garden Sprayer
Surface Preparation

Clean and Dry
Frequency
As needed
Special Instructions

Apply from bottom-up, rinse from top-down
Rinse thoroughly!