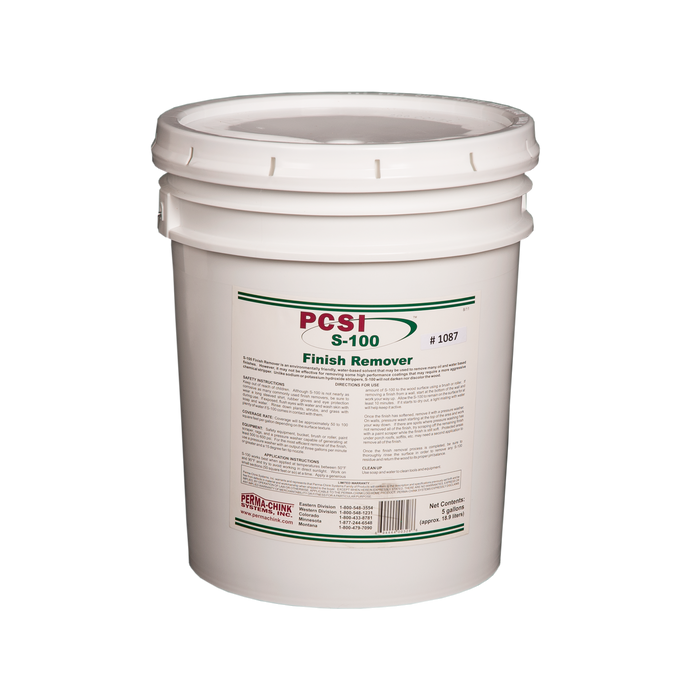 S-100: Finish Remover
Original price
$0.00
-
Original price
$329.95
Description
S-100 Finish Remover
S-100 Finish Remover is an environmentally friendly water-based solvent that removes many oil and water-borne finishes from logs, siding, and decks. Perma-Chink Systems developed a finish remover using new technology originally developed for removing paint from aluminium aircraft surfaces.

Supplied as a ready-to-use gel, it is easily applied with a short bristled brush, paint roller, or airless sprayer. Within a few minutes it begins to soften the finish and since it is a gel, it stays wet and active for a fairly long period of time. Once the finish has sufficiently softened, it can be removed by simply pressure washing.

S-100 will not darken or discolour the wood, will not corrode or discolour metal surfaces, nor will it harm log home chinking or sealants. Although it is effective for removing most log home finishes, there are some high performance coatings that may require a more aggressive chemical stripper. Perma-Chink Systems recommends that a sample of S-100 be obtained from them and tested on the finish you want to remove prior to placing an order.
Features and Statistics
Will not harm chinking and sealants

Will not corrode or discolour aluminium or other metals

Is environmentally friendly

S-100 Finish Remover is not recommended for removing lead-based paint or paint that was applied before 1972
Product Specifications 
Shelf Life
3 year
Application Temperature
40o to 90o
Do not freeze!
Application Methods

Safety equipment, bucket, brush or roller, paint scraper, rags, and a pressure washer capable of generating at least 500 to 600 psi.
Surface Preparation
Dirt free
Frequency
As needed
Special Instructions

 One to two applications, depending on severity
Apply from bottom-up, rinse from top-down
Rinse thoroughly!