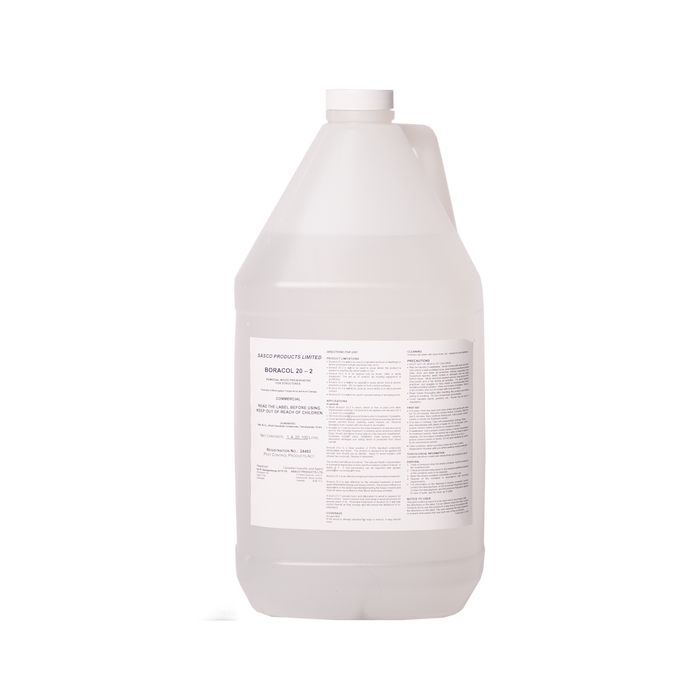 BORACOL
Original price
$129.95
-
Original price
$549.95
Description
BORACOL Wood Preservative and Protection

BORACOL is a liquid wood preservative formula to meet particular wood preservation needs. Whether looking for a strong fungicidal, mouldicide or insecticide to kill attacks already in progress or seeking to protect new wood projects, this environmentally responsible preservatives will effectively stop wood deterioration in its tracks. The main advantage of BORACOL is the ability to distribute the preservative through sapwood as well as heartwood. Very low toxicity to mammals.

Uses:
Joinery and woodwork
Joist ends in brickwork, heads, rafters
Projecting beams and all types of structural timbers including those in marine environment, also wooden bridges
Window and door frames
Eradicate dry rot and other decay in wood
Against  insect attacks (including termites)
All of the Boracols are registered with the Pest Management Regulatory Agency (PMRA), the 20-2 is also registered with the U.S. Environmentally Protection Agency (EPA) with the rest pending.

BORACOL 20-2 is the original Boracol. As a preventative, this wood preservative is a fungicide and insecticide. The 20-2 is also developed to eradicate dry, wet and white rot, fungal attacks and insect infestations which have already established themselves in building materials. (PMRA Reg. No 24493, EPA Reg. No 73722-1)
Features
Protection for deep inside the wood core — not a surface protectant
Available in various sizes for different applications
Diffusible
Product Specifications
Drying time before staining: 1--2 weeks
Before staining: Wash with Log Wash (or Cedar Wash for Cedar)
NOTE: A coat of Lifeline Ultra-7, Ultra-2 or Exterior will seal in the Boracol so that it does not need to be applied again so long as the finish is maintained properly.
** From December until April 1st we cannot ship Boracol due to risk of freezing as these are not freeze / thaw stable products. 
Click here for more information
Coverage Rates
20L: 750 sq ft depending on porosity of the wood
4L: 150 sq ft depending on porosity of the wood